right now
i feel ill

i want pancakes

i want ice cream

i ate all my tomato pizza things

i ate all the cinnamon buns

can i cry

I want pork pibil tacos

the maoams are gone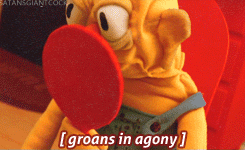 There comes a point where you get tired of watching people live the life that you want to live. 
*picks up the phone* "Hello I would like to report that this post shot me right in the woman testes!" Too fucking real post. Too motherfucking real. Me. Right now.
*puts my bro's dick in my hand*

see, its a metaphor. it's only gay if i jack it
(via team-striker-eureka)
my favorite term is "practicing homosexual" like why yes, i am in training to be the best gay ever

Art requires dedication, devotion, and discipline.
(via team-striker-eureka)
The world didn't get worse, homie, your eyes just got wider.
this ship is bananas

b-a-n-a-n-a-s

i spent 5 minutes straight laughing about this without breathing and this has 9 notes
(via admiral-toast)